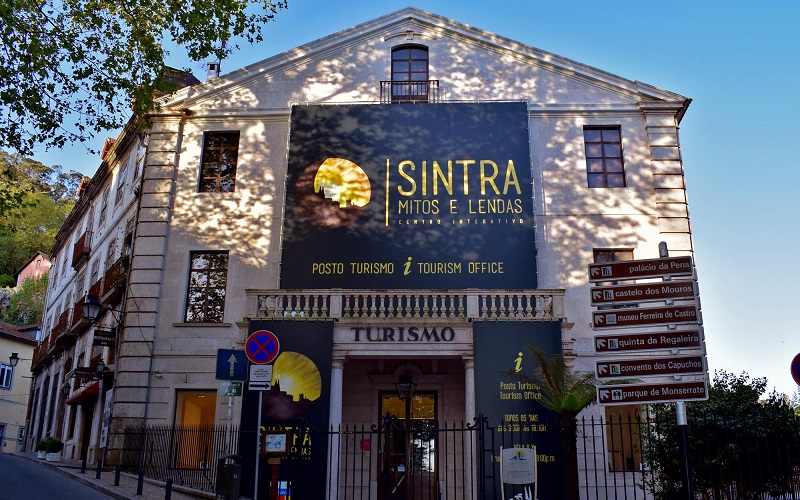 The Sintra Myths and Legends interactive centre invites you on a journey through mysticism, secrets and the romanticism of the town, through history, music and literature.
Using set design, multimedia techniques and sensory experiences, this space with 17-stops blends reality and fiction along various dimensions, with the help of a team of architects, set designers, screenwriters, historians and audiovisual specialists, and holograms, sensory effects, augmented reality and 3D films.
The expedition through the myths and legends of Sintra starts in an elevator lined with images of the town, to the sound of the forest, and in low lighting conditions, but it is on Level 3 that the visit begins in earnest, with the feeling of arriving at the top of the Sintra Mountains.
Here, a narrator introduces the legends and talks about the Creation of the Penhas [Cliffs] - Lenda dos Cinco Altos de Nomes Iguais e Apelidos Diferentes de Sintra [Legend of the Five Sintra Peaks with Equal Names and Different Surnames]. On Level 2, visitors start to make contact with historical events and other legends, through touchscreens and an animation film projected on to screens, using video mapping and supported by audio guides.
On Level 1, visitors learn about the Legend of the Tomb of the Two Brothers and the Seven Sighs ["
Sete Ais
", in Portuguese]. Legends are told with real-size holograms, 
which add a certain element of the fantastic to the story, but also through kinetic experiences, in which visitors embody a character in a game, running through the woods, dodging obstacles and catching some of the items associated with the legend. On the seventh "Sigh", the player loses.
A space dedicated to the writers who allowed themselves to be seduced by the magical town of Sintra displays animated figure frames of the writers, who narrate their story in the first person. Here, in a 4D space, through a multisensory experience complemented by scents and wind, visitors can hear of the legend of the Virgin Mary's Apparition to the mute shepherd girl on the mountains.
On Level -1, new adventures await visitors, as they enter a tunnel that simulates the Initiation Well; they find themselves aboard a ship facing Adamastor, as they are enveloped by the waves; or come into contact with the holograms recreating the pagan universe of the legends and myths, through nature, animals, and fairies. The journey ends surrounded by lush greens, to the sound of the forest.

Opening hours
Every day: 10:00 a.m. - 6:30 p.m
Last entry: 17:30 p.m.

Admission

Single
Adult 3,50 €
Senior / +65 years old / Student 3 €
Children ( until 5 years old ) Free
Children | 6 to 15 years old 2 €
Family | 2 Adult + 2 Children 10,50 €
Groups ( > 10 pax )
Adults 3 €
Seniors 3 €
Children | 6 to 15 years old 1,50 €
LISBOA CARD Adult Free
LISBOA CARD Children Free
Sintra Myths and Legends
Praça da República Nº 23
2710-616 Sintra
GPS: 38°47'47.0"N 9°23'29.0"W

Phone: +351 219 231 157
Email: This email address is being protected from spambots. You need JavaScript enabled to view it.
Site:  www.visitlisboa.com