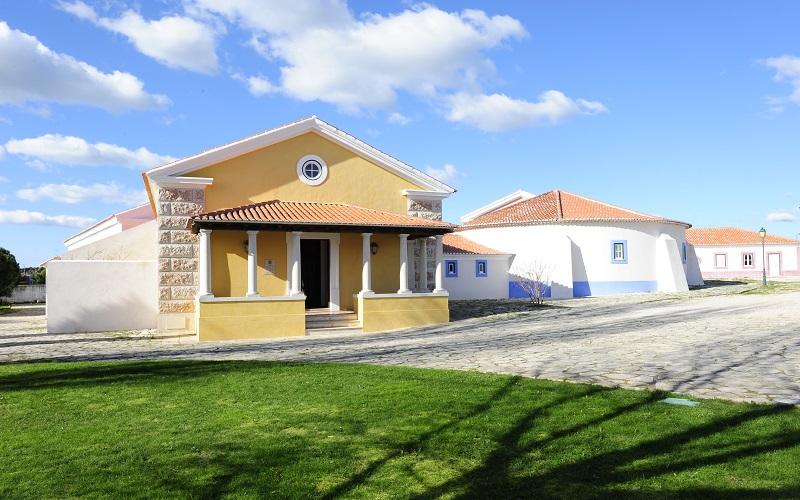 The origins of the São Miguel de Odrinhas Archaeological Museum date back to the mid-16th century. At the initiative of some 16th-century scholars, including Francisco d'Ollanda, a large collection of Roman inscriptions from the surrounding fields and villages began to be gathered around a local hermitage.

In 1955, after several centuries of abandonment, the Sintra City Council constructed a small house to hold these significant monuments, began archaeological excavations, and began promoting the adjacent Roman ruins for their tourist and cultural value.

Today, the lapidary collection includes over four hundred items, and many thousands more items have been added, including coins, and ceramic, lithic, metallic and osteological objects, among others. 


The museum's exhibit is articulated between two distinct, complementary areas:

(a) the Epigraphic Section, which covers just over two millennia, from the Etruscan period to the Modern Age, with special note for Roman tombstone collection, recognised as one of the most important in the Iberian Peninsula;
(b) the Archaeological Section, which gathers many thousands of pieces exhumed from numerous archaeological within Sintra, from the Middle Palaeolithic to the 18th century, and highlights the significant Neolithic, Chalcolithic and Roman exhibits.
Opening hours

Tuesday through Saturday: 10:00 a.m. - 1:00 p.m. and 2:00 p.m. - 6:00 p.m
Closed on Sunday and Monday
Admission Free

Features and Services
Guided Tours

Directions
National Road EN247 (Sintra-Ericeira), crossroad to São Miguel de Odrinhas. Mafrense Buses, on the Portela de Sintra-Ericeira route, leaving from the Barreira stop.

Other information 
The collection held at the São Miguel de Odrinhas Archaeological Museum mostly comprises archaeological collections found at archaeological sites throughout the municipality of Sintra. 
S. Miguel de Odrinhas Archaeological Museum
Av. Prof. Dr. D. Fernando d´Almeida,
Odrinhas - São João das Lampas - Sintra

Phone: (+351) 219609520
Fax: +351 219609529
Email: This email address is being protected from spambots. You need JavaScript enabled to view it.
Website: www.museuarqueologicodeodrinhas.pt