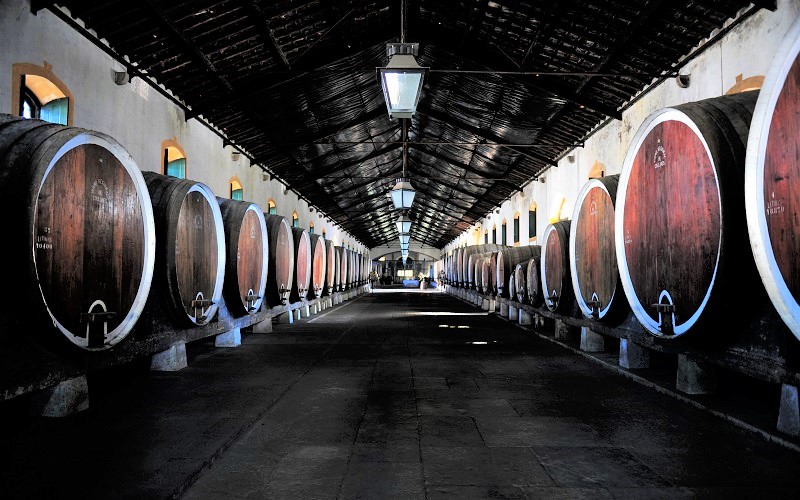 The Colares Regional Wine cellar was founded in 1931, currently bringing together more than 50 % of the region's production and more than 90 % of the producers. For 75 years, this cooperative has played a major social role in the region's agricultural activity. It produces wines under the denomination of Controlled Origin of Colares, Regional Extremadura and Table Wines, suitable to any occasion.
The original building still stands, an imposing construction when viewed from the outside and stunning for its interior size. The main building has a wide collection of large vats, where the wine produced here age.
Colares wines have an unique history since the independence of Portugal, perpetuated by various personalities such as Eça de Queiroz or Lord Byron. 

Strains planted in sandy and sea areas require great care in their cultivation, requiring small productions, worked by hand. Besides being produced under very special microclimate conditions, these wines come from indigenous grape varieties such as Ramisco (red) and Malvasia de Colares (white), prized by some of the most renowned names in world oenology. This combination of human and viticultural factors contributes to each bottle representing a very special, authentic collection piece.


Opening hours:
Monday to Saturday: 9 a.m. - 13 p.m. to 2 p.m. - 6 p.m.
Closed on Sundays and public holidays


Features and Services:
Guided tours including wine tasting
Shop
Car Park
Events
Colares Regional Wine cellar
Av. Coronel Linhares de Lima, n.º 32 Colares
2705-351 Colares

GPS: 38°48'21.2"N 9°26'59.9"W

Phone: (+351) 219 291 210
Email:  This email address is being protected from spambots. You need JavaScript enabled to view it.
Website:  http://www.arcolares.com