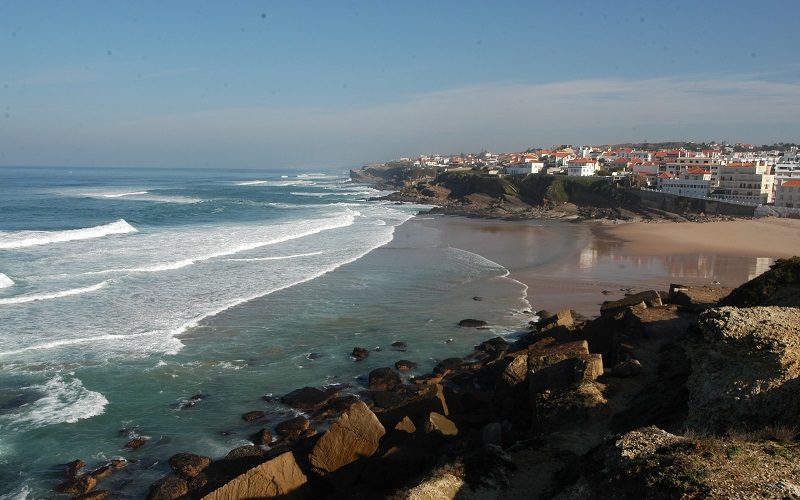 Golden sand beach at the mouth of the river it is named after ['Maçãs' in Portuguese, meaning 'apple']. It is said that in autumn the river carried many apples from the farms it crossed, which gave the beach its name. 

The village only began to emerge at the end of the 19th century, when Father Matias del Campo, the parish priest of Colares, an inhabitant of Azenhas do Mar named Manuel Prego, and the composer and painter Alfredo Keil, author of "A Portuguesa" [Portugal's National Anthem], built the first three houses.

But there are traces of the presence of prehistoric man and various items from the Chalcolithic (idol-plates, ceramics, silex, etc.) On the left bank of the mouth of the River Maçãs [Apples], on a high ground called Alto da Vigia, there was in times a temple dedicated to the sun and the moon. 
In the 16th century, André de Resende and Francisco de Holanda, among others, came into contact with the ruins of this sanctuary, as the former collects some epigraphic inscriptions and the latter idealizes the reconstruction of the old Temple of the Sun and Moon in his book "Da Fábrica que Falece à Cidade de Lisboa". 
The extensive sandy beach is the perfect place for beach sports, and is unsurprisingly popular with lovers of water sports, such as bodyboarding and surfing. Approximately 250 m around the beach, different shops from restaurants to cafés and bars have opened for business, as well as local handicraft shops, and the location has thus become a meeting point for Sintra's inhabitants who make the most of the terraces and excellent food, in Summer and Winter alike. 

Next to the beach, there is a saltwater swimming pool and a playground for the little ones, with playful recreational activities that get children interacting with each other. At both ends of the beach, there are slabs/rocks which make for stable fishing spots. 

Apart from the beach, one of the attractions in this area is the famous tram ride. The route starts in Estefânia, by the Sintra Museum of Modern Art, passes through Colares and ends by the seafront at Maçãs Beach.
Maçãs Beach
Rua Pedro Álvares Cabral
2705-300 Colares
GPS - 38°49'32.0"N 9°28'09.6"W