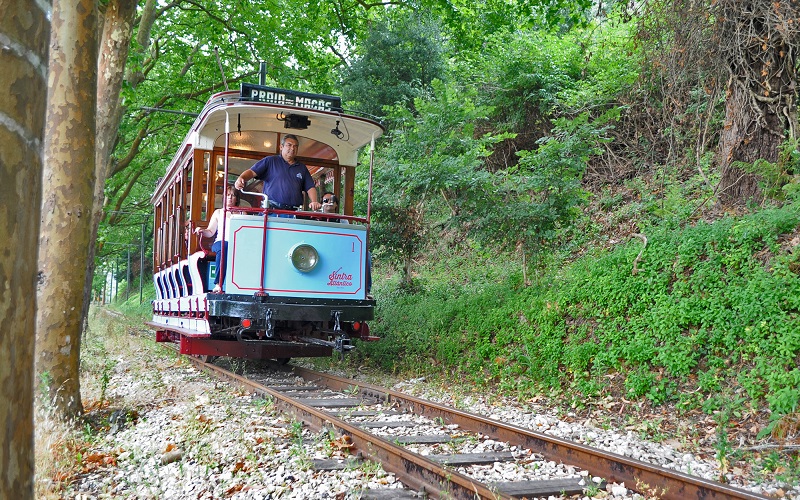 The journey, covering almost 13 kilometres, extends through plane trees, vineyards and orchards, lasting about 45 minutes. In open or closed carriages, the journey brings to memory other times and delights the eyes with beautiful landscapes.


Arrive at the last stop of the Sintra Tram, stroll through the Vila da Praia das Maçãs and breathe in the sea air at one of Sintra's most famous beaches. Here there is no shortage of good restaurants where you can taste good fish or seafood from the coast.
If you like to take a stroll after lunch, venture out for a 20-minute walk along the coast and take a look at the
Azenhas do Mar viewpoint
. A true picture postcard, Azenhas amazes by its geographical location, with houses cascading down the cliff to the sea.
Return to Maçãs Beach, take the Sintra Tram and get off at
Colares Regional Wine Cellar.
Founded in 1931, it currently brings together more than 50 % of the region's production and over 90 % of the producers. It produces wines under the denomination of Controlled Origin of Colares, Regional Extremadura and Table Wines, suitable to any occasion. With advance booking, you can have a guided tour and taste the historic
Colares wine
. (Wine cellar).
Return to Sintra, again aboard the tram, and if you still have time, be sure to visit the
MU.SA - Sintra Museum of Art
. This museum is near the tram stop; it takes visitors through the figurative art of the Municipal Collection of Contemporary Art.
Located in the old Casino, next to the Olga Cadaval Cultural Centre, it also has a photography space, a Municipal Book store and a Municipal Gallery for works by temporary exhibitions of Portuguese and foreign artists.


At the end of the day, we are sure you will return for other experiences in Sintra.